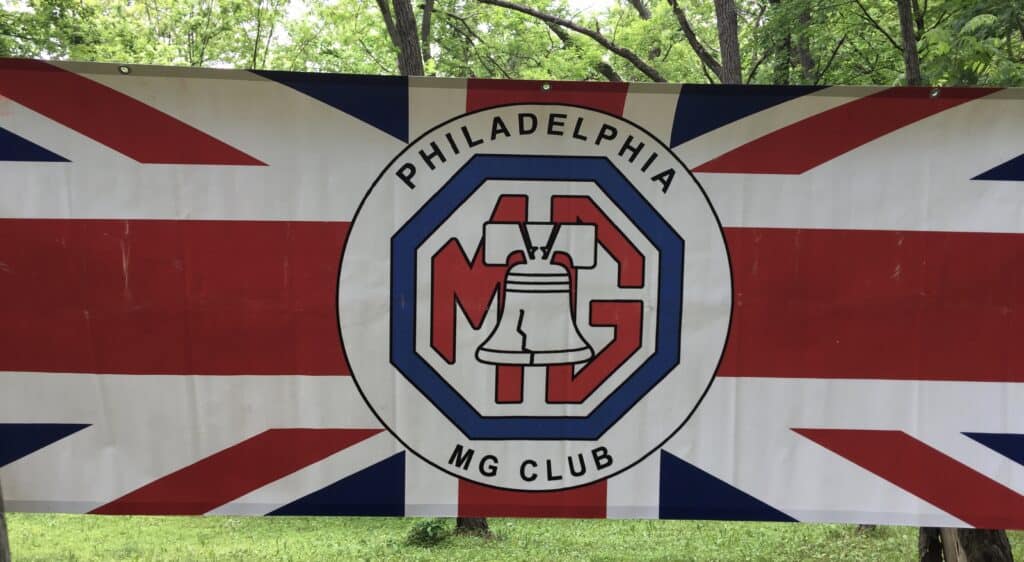 Brits is On!  We know it will be raining but since we are rain or shine we will be there!  If you can make it – awesome.  If you can't we totally understand.  Please stay safe and make the best decision for yourself 😊. 
The "Brits at The Village" British Car Show is an informal, popular-vote show for owners of all British Cars.  It is designed to "finish off" the car show season.  Bring your car and family and enjoy the surroundings.  See what Peddler's Village has to offer in shopping and fine dining at many of its specialty shops and restaurants.
26th Annual Brits at The Village Car Show Information
October 7, 2023
2023 "Featured Marque"
MG B GT
Show Dash Plaques to the first 125 Pre-Registered Cars.
*Pre-Registration received by October 1st – Cost $15.00 *Day of Show Registration – Cost $20.00. *Pay by credit card (DAY OF SHOW ONLY)* For Car Show or Registration Information please call or email Kristi at 484-686-3305 or kliebel@phillymgclub.com. *This event is Rain or Shine – please plan accordingly!
2022 Brits Winners:
(* denotes PMGC Member)
MGA
1st place – Mark & Donna McCarraher – 59 *
2nd place – Shelly Menkowitz – 56 *
3rd place – Tom Brobst – 58
MG T-Series
1st place – Jay Kauffman – 54 TF
2nd place – Bill Black – 55 TF
MG Midgets
1st place – Ken Samen – 77 *
2nd place – Lee Smith – 77
3rd place – Larry Spitzer – 66 *
MGB 1962-1974 – Chrome
1st place – Lawrence King – 67
Dave Coulier – 62
2nd place – Pat Leone – 74
Joe Rizzo – 72
Nick Ferrant – 66
3rd place – Geri Oliveri – 72 *
MGB 1974 ½ – 1980 – Rubber
1st place – Chip Krout – 76
2nd place – Jeep Tenneson – 79 *
3rd place – Richard Hammer – 78
MG BGT
1st place – Ken Collins – 73 *
2nd place – Bob Factor – 67
3rd place – David Pittman – 74
MG C
1st place – Michael Stein – 69 MG CGT
MG Custom
1st place – Ben Regusa – 72 MG B
2nd place – Michael Bartell – 77 MG B
MG Other
1st place – Jason Urban – 35 P-type Special
Early Jaguar Through 1974
1st place – Kevin Fitzgerald – 61 E-Type
2nd place – James Sjoreen – 67 E-Type
3rd place – Michael Wolf – 61 XKE
Late Jaguars 1975-present
1st place – Ross Friedman – 91 XJS
2nd place – Andrew Lazzaro – 04 XKR
3rd place – Andrew Hurley – 18 F-Type
Triumph TR2, TR-3A, TR-3B
1st place – Scott Price – 61 TR 3A
2nd place – Glenn Coughenar – 59 TR 3A
3rd place -Jim Philips – 62 TR 3B

Triumph TR-250, TR-4, & TR-4A
1st place – Philip Sasko – 68 TR-250
2nd place – Allen Hess – 63 TR-4
Triumph TR-6
1st place – Jim Paul – 76
2nd place – Bob Ruby – 71
3rd place – Jeff Armstrong – 73
Triumph Other
1st place – Melody Laurel – 80 Spitfire
2nd place – Ray Carr – 74 Spitfire
3rd place – Jim Mustacchio – 80 TR-7
Austin-Healey "Big Healeys"
1st place – Carol & Joe Bardon -67 AH 3000 MKIII
2nd place – David Siwa – 54 AH 100
3rd place – Wayne Kachel – 64 AH MKIII
Austin Healey Sprite
1st place – Allen Kramer – 60
2nd place – Mike Raupp – 59
3rd place – Bob Ott – 60
Lotus
1st place – Roman Artymyshyn – 2007 Europa
2nd place – George Maffatt – 1998 Caterhan Classic
Mini
1st place – Gary Warren – 71 Village Fair
2nd place – Leo Macdonald – 90 Cooper
3rd place – Josh Wallen – 13 JCW
British Other
1st place – Allen Yanklen – 73 TVR
2nd place – Ken Swanstram – 63 Rolls Royce Silver Cloud
3rd place – Charles Epstein – 76 Aston Martin V8
Premier
Allen Brown – 1963 Jaguar E-Type
Diamond in the Rough
Bill Black – 1955 MG TF
Best MG of Show
Jason Urban – 1935 MG P-Type Special